The recommended FMI "STH, RH OR STQ PUMP DRIVE MODULES" Pump Mounting for maximum pump performance, mount the pump with motor at 12 o'clock and pump head at 6 o'clock position. This orientation will allow air bubbles that enter the pumping chamber to directly exit thru buoyant assist. Discharge lines should be inclined upward from pump head.
FMI pumps are considered viscosity independent indicating that most high viscosity fluids can be dispensed or pumped at low flow rates and low speeds. Free flowing fluids are easier to pump than non-flowing fluids.
Viscous fluids up to 500 centipoise can usually be pumped by most FMI Pump Drives and Pump Heads. In most cases no additional steps are required to achieve good performance.
Viscous fluids above 500 centipoise may require one or more of the following steps to achieve better results:
The slower the RPM the better. Try to keep RPM below 400. Use stainless cylinder case material (CSC, CSC-WT, CSC-TC, CSY, SSY)
Set Pump Head closest to 100% of Pump Head Module flow rate. A longer piston stroke is better than a short piston stroke.
Use the largest ID suction line possible.
Increasing tubing ID size on discharge line can help reduce back pressure buildup.
Reduce viscosity if possible - try Heating the fluid (use CSC-WT pump head) or if applicable dilute the fluid using suitable thinner. Check temperature limits of Pump Head Module in catalog.
Improve flow to pump -Free flowing fluids should be gravity fed.
Non-flowing fluids may require the use of a pressure pot to get fluid into pump head. Do not over pressure the suction line. Use minimum pressure necessary to help deliver the fluid into the pump head.
Dispensing small drops of high viscosity fluids may require physically moving the dispenser head to the point of delivery and making contact at that point. This will help prevent the drop from remaining on the dispenser tip.
High viscosity fluids may require modified ceramic Piston-Liner sets. Consult factory.
Note – The molecular chemical composition of certain fluids may pose a pumping challenge even though a similar viscous fluid can be easily pumped. Typically polymers in the Cationic family may pose such difficulties.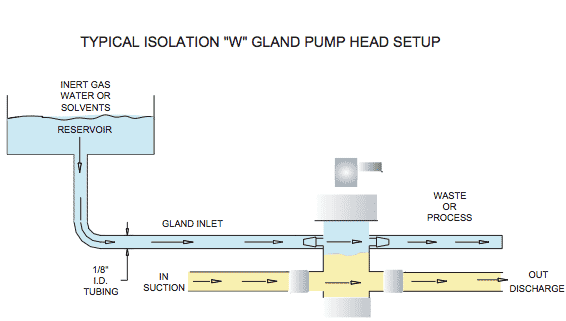 In a special modification of certain FMI Pump Head Modules (designated by suffix "W" or "WT"), a pair of extra ports provide a barrier gland of liquid, gas, steam or whatever fluid required to isolate the pumped fluid from the seal area and atmosphere. Slurries, particulates, crystal formers, and anaerobics are easily handled at temperatures and pressures unattainable before. The Isolation gland option is available for Q1, Q2, Q3, CKC, CKC-LF, & CSC Pump Head Modules.
The FMI pump is positive displacement and, in general, viscosity independent. However, viscous fluids should use lower RPM drives (400 RPM or less) with pump heads adjusted to longer piston strokes. There is no absolute value for the maximum viscosity an FMI pump can handle. For extremely viscous fluids, pressure feeding on the inlet side of the pump and/or heating of fluid are commonly used to aid in feeding fluid to the pump. FMI also manufactures temperature controlled pump heads "WT" to help maintain fluid temperatures up to 360 F as it flows through the pump.
FMI can search through our reference material as well as our comprehensive application database to make recommendations. However, a quick and easy way to determine compatibility is to consider what materials of construction are currently used in your piping, fittings, vessels, and containers to handle your product. There are also reference compatibility charts available in print and online. The chemical manufacturer's MSDS data sheets may contain compatibility information as well.
The FMI pump can dispense up to 1.28 ml per piston stroke. However, larger volumes can be dispensed using stepper driven pumps which can dispense up to 7 strokes (8.96 ml) with a single dispense signal. For larger volumes, FMI continuous metering pumps can be used in conjunction with a 3-way diverter valve and a timer. Contact FMI customer service for more information.
Fluid splashing when dispensing is caused by the fluid being dispensed at a high velocity. The fluid velocity can be decreased by either reducing the drive RPM or by changing the dispense tip to one with a larger orifice. Dispense tip design can have an influence on the velocity and pattern of dispensing to reduce splashing as well.
No. FMI's Ratio:Matic pumps can meter two different fluids proportionally up to 100:1 ratio. The two pump heads are driven by a single variable speed drive motor and can maintain the fluid ratio while infinitely varying the overall flow rate. Ratio:Matic pumps include the Q2B 12/24 VDC drive, Q2V with V300 Controller, and a variety of stepper driven duplex pumps.
Yes. FMI's can be easily driven by belt, chain, or shaft coupling, or connected directly to special motor drives. FMI can also provide adaptors to connect QP and RH motorless pumps to Masterflex® LS drives.
Accuracy of ± 1%. Can be expected for low to medium viscosity (1 - 500 cps) fluids providing, consistent precise output from microliters to full flow range.
Find the serial numbers on your unit and contact FMI customer service. From the serial numbers, FMI can tell you all about your unit.
The hammering sound is usually an indication of CAVITATION. Cavitation is caused when the suction side tubing ID is too small to allow adequate flow of fluid to the pump. CAVITATION can cause problems such as hammering, flow variation, bubble formation, loss of prime and eventually pump damage.
Yes. Pumps will self prime to 15 feet vertical dry,26 feet wet.
YES. FMI Sanitary Pump heads are designed for autoclaving, clean in place, or complete disassembly for brush cleaning. Cleaning procedures can be followed without loss of system operating efficiency.
Dead volume is the amount of fluid which remains in the pump when the fluid discharge is completed. For low volume dispenses or low flow rates, FMI has special low dead volume pump heads, "LF", which utilize low flow fittings that facilitate bubble clearing in the pump.
On all FMI pumps, flow rates may be altered when operating or at rest. On the "Q" line this is done by turning the Flow Control Knob which moves the flow rate indicator along a fixed 20 unit scale linearly calibrated "10-0-10". The "10" equals 100% flow rate in that direction, "0" equals zero flow. To improve the fine adjustment of the flow rates on the "Q" line, there is an optional Dial Indicator Kit Q485 which provides for 1000 discrete settings. The "RH" line flow adjustment is accomplished by turning an easy-grip Flow Control Ring graduated in 450 divisions from 0 to 100% flow.
The maximum operating pressures for the PVDF pump head is 60 psig maximum OR the lower pressure listed in the FMI catalog charts for the various pump head and drive combinations. For pressures above 60 psig, FMI offers 316SS pump heads. Depending on the pump head and drive combination, stainless steel pump heads can go as high as 100 psig.
PVDF pump heads have an operating temperature rating of 212 deg. F (100 C). However, these pump heads can be autoclaved (non-operating) at temperatures up to 240 deg F (116 C).
The Dial Indicator accessory is available for "Q" pump heads which provides direct reading of pump head position in 0.1% increments for ultra-fine flow rate adjustment. It can be ordered with the pump or separately.
A variety of rotational sensors are available which will provide a signal for monitoring RPM. For pumps which utilize the standard Q style base, hall effect and proximity rotational sensors are available. For stepper motor driven pumps, opto-sensors can be provided.
Yes. The RH/Q adaptor adds versatility to your Q pump. It is a quick, easy, low cost solution for mounting RH pump heads to a Q style base.
In general, when the flow rate is 50 ml/min or below, a low flow pump head, designated by the suffix "LF" should be used. These pump heads have very low dead volume and accept 1/4-28 fittings used with small bore tubing for zero dead volume connections. FMI offers Small Bore Tubing kit Q661 combinations for 1/8" and 1/16" small bore tubing which include tubing and fittings. These fittings connect directly to PVDF and Tefzel® "LF" pump heads. For use with 316SS pump heads (except SAN), the R479 adaptor is also required.