In 2022, images of cargo ships sitting off the coast of California, shortages of truckers, and continued lock downs in China due to persistent COVID outbreaks in key manufacturing cities dominated all the supply chain news.
Despite these challenges, Fluid Metering (FMI) has been able to sustain an average of a 10-day lead time for most products, enabling customers to maintain their production schedules for critical health care products. The secret to FMI's success is not really a secret. It is all part of FMI's Core Values.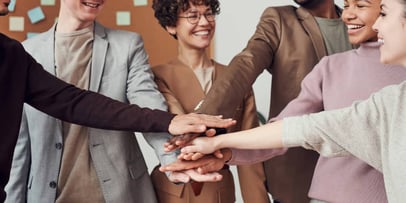 Core Value: Embrace a culture of innovation, responsiveness, and continuous improvement
Being innovative does not just happen with product development. It also happens with managing risk. Even before the 2020 COVID pandemic, FMI was already making changes and moving away from sole source to double and triple sourcing key components.
While most components are sourced domestically in the US, FMI searched for and formed strong partnerships with suppliers in Europe and Asia to ensure that there is no single point of failure in the supply chain. Keeping in close contact with suppliers not only helps avoid shipping issues, but also ensures FMI suppliers are available to help troubleshoot and solve issues rapidly.
Being responsive to market fluctuations means having strong forecasting and contingency planning. FMI has made it a point to carry inventory of key product components to meet demand and ensure customer satisfaction.
Core Value: Exhibit a culture of collaboration, diversity, and integrity
Despite multiple sourcing and carrying inventory, shortages are part of the post COVID new normal in manufacturing. Changing the grade of components in the fluid path requires customer re-testing, so to mitigate this, FMI maintains a strong bench of over fifteen product development, quality, and manufacturing engineers. This team of highly skilled engineers collaborate with customers to help navigate potential issues and support customer validation as needed.
Core Value: Demonstrate strong quality and compliance to build customer trust
The core value of building customer trust is interwoven in the entire FMI organization from senior management to engineers, customer support and sales. In every customer driven meeting, the FMI President keeps the engineering and customer support team accountable by asking two questions:
Are we meeting our client's deadlines?
Do our clients have any concerns?
Of course, if there are any issues, the FMI team is responsible for developing a communication plan for the customer detailing how the problem will be corrected with an estimated timeframe of completion.
"A community is only as strong as the values it upholds."
- Unknown.
Learn more about FMI's commitment to customers
FMI's commitment to solving and helping customers is woven into the organization's corporate culture. As a result, FMI has been able to consistently deliver outstanding lead times pre and post pandemic to ensure that companies in the medical device industries can maintain their production schedules.
Contact FMI today to learn more.