As a mechanical engineer in the life science industry, choosing the right fluid handling supplier is critical for project success. When evaluating potential suppliers, there are several qualifications to consider, backed by data. Now more than ever, it is important to work with a partner who is committed to transparency, tracking, and validation through the project's entire lifecycle.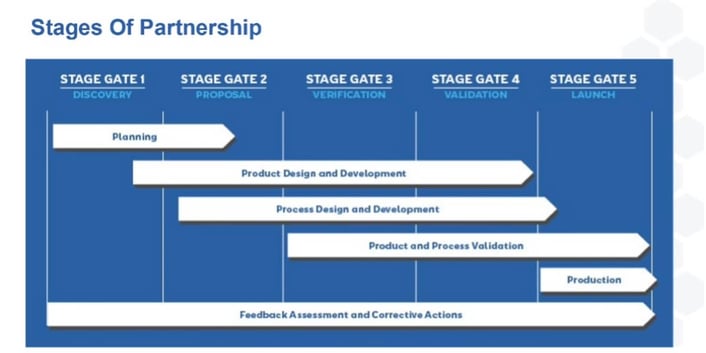 Applications Subject Matter Expertise:
Partnering with a supplier that has local, knowledgeable, and experienced subject matter experts who understand your application is essential. In a study of 1,000 engineering executives, 75% said that expertise is the most critical factor when selecting a supplier [1]. As an OEM, waiting for technical experts to return from vacation or dealing with salespeople without technical knowledge can be a waste of your limited time and money.
Engineering Partner with Manufacturing Excellence:
The importance of selecting a supplier that is world-class in both manufacturing and product design cannot be overstated. In a survey of 1,500 manufacturers, 98% said that product quality is the most important factor in customer satisfaction [2]. OEM and medical device manufacturers are required to meet rigorous government regulations, most notably GOOD Manufacturing Practices (GMP). Adherence to these practices is especially important for medical device manufacturers where safety and quality are critical factors. When lives depend on the devices being produced – there is no room for error.
Company Integrity:
Honesty and transparency are critical when working with a supplier. In a recent study of 500 procurement executives, 85% said that price predictability is the most important factor in supplier relationships. In addition, 68% of companies said that they have dropped a supplier due to ethical concerns [3]. Simply put, integrity is about doing the right thing which leads to sustainable business relationships that are essential to long-term success. Partner with a supplier who understands, agrees to, and meets budgetary estimates to avoid unexpected costs that may hurt your project.
Global Supply Chain:
Choosing a supplier whose product is available off-the-shelf locally in your country is necessary. A survey of 1,000 supply chain professionals showed that 85% believe global supply chain disruptions will become more common. An unstable supply chain can lead to extended lead times, quality issues, and increased costs [4]. As an OEM, supply chain management is an integral part of your business and essential to company success and customer satisfaction. Sourcing locally reduces shipping and storage while providing the opportunity to help the environment by reducing emissions and energy usage.
Conclusion:
In conclusion, selecting the right fluid handling supplier goes beyond price. To ensure the success of your project, partner with a supplier who meets the qualifications above and invests in their own R&D. The data shows that expertise, product quality, price predictability, and supply chain stability are the most important factors when selecting a supplier. Remember that you get what you pay for, so invest wisely in a long-term partner for your project.





Footnotes:

[1] The B2B Buying Process Revealed. B2B International. (2017).

[2] The State of Manufacturing Quality: A Survey of Global Manufacturers. LNS Research. (2018).

[3] Procurement Trends Survey Report. ProcureCon Indirect. (2016).

[4] Supply Chain Resilience Report 2020. Business Continuity Institute. (2020)