Designing and building a scalable, dependable, and accurate Clinical Chemistry Analyzer all begins with selecting the right components, including the liquid handling system: the pump.
As the engineer responsible for meeting your project requirements, you know you need a pump that:

• Meets your design specifications.
• Is consistently dependable – with a meantime to failure (MTTF) that exceeds lifetime needs.
• Manufactured by a reputable and stable supplier who can provide support throughout the product's lifecycle.
• Developed by a team of subject matter experts who work side by side with you to validate your design.

Digging deeper into your design requirements, you determine your application needs a pump solution that meets one or more of the following:

• Simplified fluidic architecture.
• Manages challenging chemicals, such as buffer solutions, and reagents.
• Achieves the right balance of high output and accuracy at microliter volumes.
• Maintains continuous smooth flow.
• Be dependable with minimal maintenance to reduce the total cost of ownership. Fluid Metering pumps achieve 180 million cycles in ideal lab conditions without failure.

The Cost of Getting it Wrong
After several rounds of collaboration with all project stakeholders and spending countless hours on the internet, you realize the impact of choosing the wrong pump can lead to building a Clinical Chemistry Analyzer that:

• Wastes expensive reagents
• Triggers reclassification for component replacements
• Has excessive costly unplanned maintenance
• Produces inaccurate test results


Moreover, delays caused by wasting time trying to find the right pump solution can lead to missing deadlines in launching your new project application.

As an engineer, you are committed to designing and building a medical device that can save people's lives. Key to your success is finding a supply partner that shares the same values as you.


Meet Fluid Metering: Your Engineering Partner
At Fluid Metering, our product development engineering staff is committed to supporting all customer needs throughout the entire product lifecycle, from design development, testing prototypes to mass production. Our highly skilled product development and commercial teams have over 100 years of experience combined and degrees in Mechanical Engineering, Mechanical Engineering Technology, Biomedical Engineering, Chemical and Molecular Engineering and Chemistry.

Our Proven Process
When collaborating with customers, we follow the Partnership Process model below proven to accelerate development time and reduce complexity/costs of projects.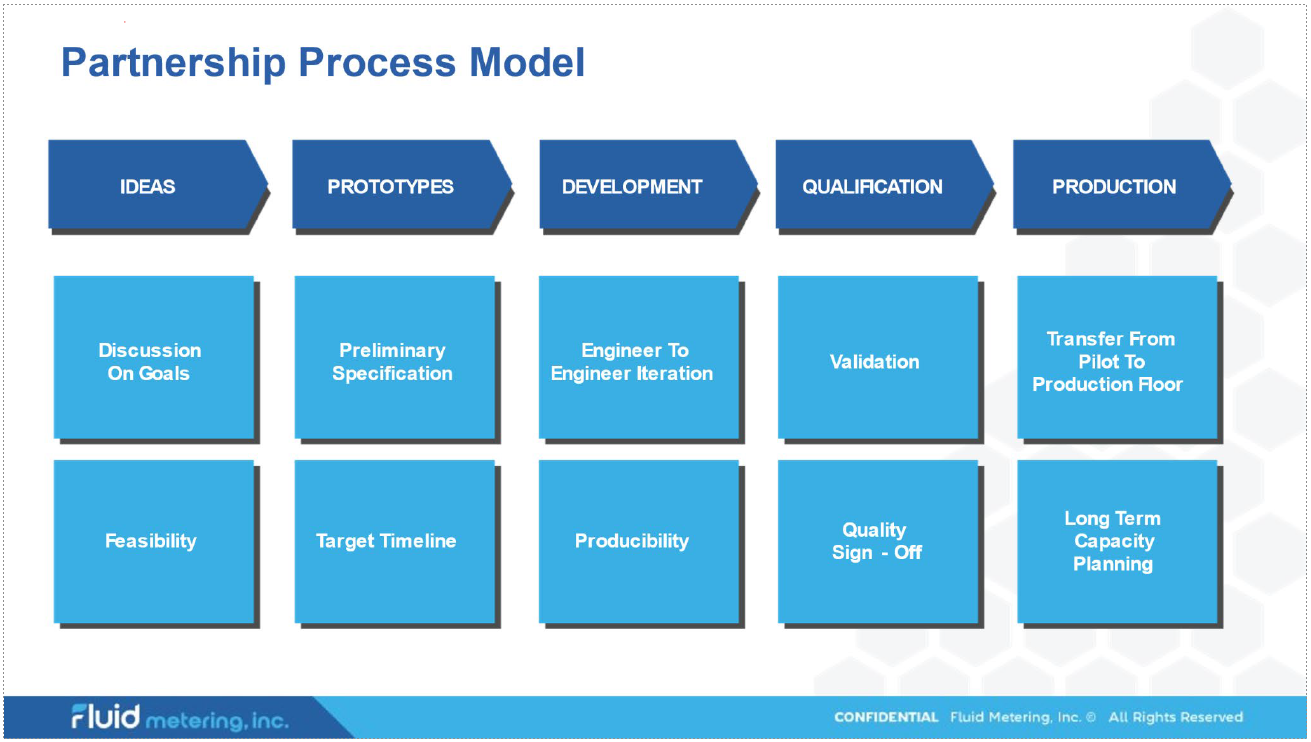 Do you Have Questions? We Have Answers!
At Fluid Metering, we specialize in providing quality instrumentation combined with industry leading technical support and services to help meet your specific fluid management application requirements.

Contact Us Today! Our product development team are happy to help you design the right pump solution for your next project.