The next generation of pumping technology is here in the FVD Series Variable Dispense Pump from Fluid Metering, Inc.
The FVD is the ideal replacement for our fixed displacement models. It is flexible and efficient, compact and innovative, and is able to dispense multiple volumes with the same pump. Years of design experience and product development excellence drives this new innovation that culminates in an electrical and mechanical upgrade unlike anything else on the market today.
In this post, we'll cover the new FVD Series Variable Dispense Pump, and why it's such a game-changer across a range of markets. Here's a look at everything you need to know about it:
About the New FVD Series Variable Dispense Pump
Historically, most pumps are used to serve only one function. There was often one pump for priming, one pump for flushing and another for dispensing. This required three pumps to carry out multiple fluidic functions.
Today, the FVD pump combines three pumps into one platform that is able to perform priming, flushing and dispensing. This new pump is simple, flexible and easy to maintain, allowing the Life Science industry to move forward to new heights.
The FVD core technology utilizes FMI's CeramPump® design combined with a linear actuator motor, which positions the piston angle to automatically be adjusted. This allows a single pump to deliver multiple dispense volumes to meet a wide range of end user applications.
Key Benefits of the New FVD Pump
Here's a look at some of the key benefits of the FVD Series Variable Dispense Pump:
Low Profile
The simplified design of the FVD pump eliminates the need for three separate pumps. The FVD's unique innovative assembly maintains a compact, low profile size for easy storage, portability, and use.
Flexible Flow Rate
The FVD pump doesn't have a fixed flow rate, it's a variable flow rate — and these flow rates vary from as little as 2 microliters/stroke to as much as 200 microliters/stroke. The flow rate flexibility makes the device applicable across a wide range of industries.
Cost Savings
Many of the benefits surrounding the FVD Series Variable Dispense Pump involve the ability to perform three different actions with just one pump. This also provides an up-front cost savings. Instead of purchasing three pumps, you would now just need one pump to perform all fluidic functions.
Less Maintenance
The only moving part in the FVD Series Variable Dispense Pump is the CeramPump® ceramic piston, which is the only component that would require maintenance.
Fluid Metering has performed reliability testing to prove infrequent maintenance is required and demonstrated the life expectancy of the pump is very long compared to other pump technologies that involve multiple pumps and more maintenance.
To date, Fluid Metering has performed more than 5 million cycles with the rotational motor and 2 million cycles with the linear motor without experiencing any type of performance loss.
Ideal Pump Uses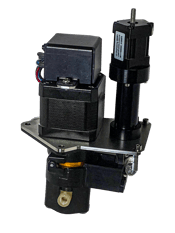 The FVD Series Variable Dispense Pump is ideal for any application where you need to dispense multiple volumes with automatic stroke adjustment. This compact design is ideal in applications where space is limited. The reduced number of moving parts also makes it more maintenance-friendly overall.
As we noted earlier in this post, it's a viable alternative to fixed displacement pumps. It can be utilized throughout a variety of industries, including:
Medical
Diagnostic
Biotech
Pharmaceutical
Analytical
Simply put, it's ideal for any professional who desires a high-precision metering or dispensing pump and has a need for automatic dispensing volume.
Contact Us Today
The FVD Series Variable Dispense Pump is a robust, long-lasting, and more flexible pump. For more information and to learn more about this innovation, contact us at Fluid Metering today. Call 1-516-922-6050 or reach out below.