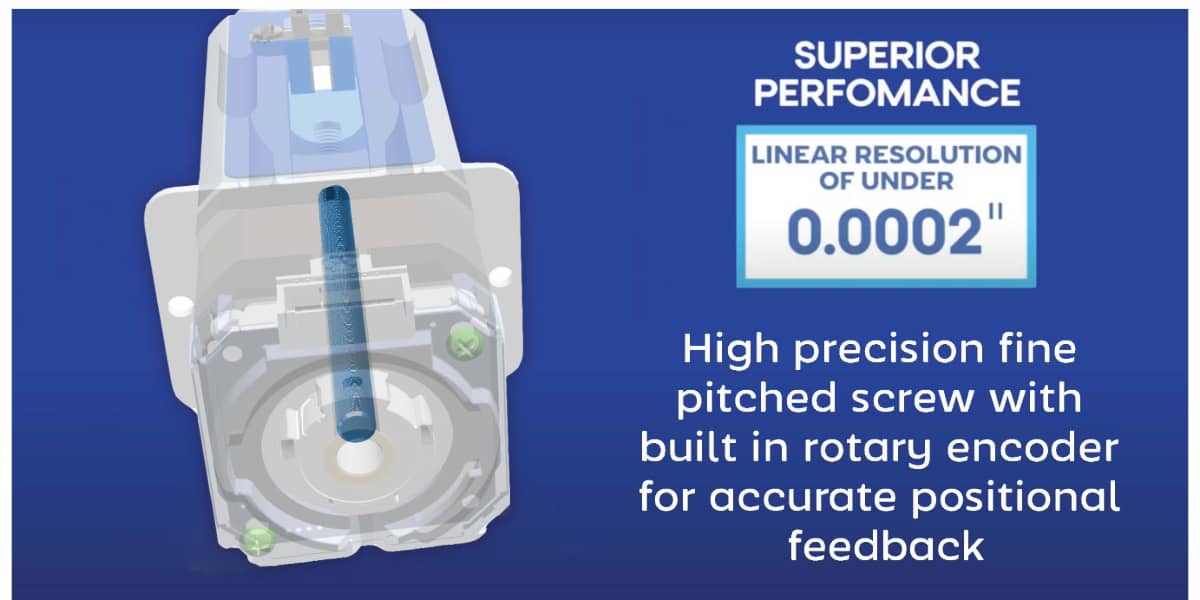 Sub Microliter Dispensing and Pulseless Flow Losses Solved Through the FDD
Life Science applications that require nanoliter resolution dispensing or pulseless flow have losses which new technology can overcome. The enhanced design of the FDD Direct Drive eliminates redundancies and solves problems across diverse industries requiring precise fluid management. Here, we'll explore how such innovative technology can assist in sub-microliter fluid management.

Exceptional Savings Potential

Assay solutions cost thousands of dollars per liter, sometimes more. Beyond the cost of assay solutions, delivering sub-microliter amounts of fluids in life sciences health sciences or tech industries can require multiple pumps, multiple parts, diverse software, component replacement, maintenance, and more…all very costly to the bottom line!

The FDD Direct Drive eliminates mechanical backlash by diminishing moving parts to deliver exceptional precision and accuracy over the entire lifecycle of the device/instrument. Greater precision preserves assay solutions which might otherwise be impacted through workaround techniques incorporating "excess" reservoirs managed via software. With fewer moving parts and maintenance reduced, life science and other industries can cut millions in losses.

The FDD Direct Drive Offsets Mechanical Backlash

The FDD Direct Drive enables mechanical backlash elimination through a patent-pending design. Switching directions won't result in backlash that impedes data collection. Particles won't be incidentally circulated multiple times in front of, say, a piece of detection equipment utilizing a laser.
Our patent-pending method has achieved stability metrics up to 98%, and that includes exceptionally precise fluid distribution. The FDD Direct Drive resolution goes as tight as a single microliter, and there are higher theoretical thresholds. The FDD has shown promising capabilities at the nanoliter level as well.
Because mechanical backlash has been so efficiently reduced, software designed to account for mechanical limitations is no longer necessary. So life science partners can replace existing technology without being hampered by associated software.

Notable Applications Across Diverse Industries

One example of a method the FDD Direct Drive can more efficiently replace is time pressure dosing. The FDD Direct Drive doesn't require a pressurized miniature reservoir with complex, expensive valves, or the maintenance that comes with them. Not only do you save money on equipment, your business can do more than it would be able to otherwise.

As healthcare has become more decentralized in the last three years, FDD Direct Drive applications can be exceptionally helpful in following the social shift. Where before, point-of-care solutions were consolidated in a medical facility, the FDD Direct Drive technology enables more viable point-of-need solutions at patient residences and other remote locations.
This expands the capability of industries in life sciences, they can more efficiently serve more patients, further expanding patient care. FDD Direct Drive doesn't merely reduce costs on the back-end through optimized design it can expand growth potential on the front-end.
The FDD Direct Drive allows precision medical solutions without requiring expensive syringe pumps and their associated replacement parts. FMI's patent-pending FDD Direct Drive technology provides nanoliter resolution dispensing solutions suited for cytometry applications, invitro diagnostics, research requiring precise particle, cell, or biomarker detection, and even tech-sector companies who need sub-microliter fluid distribution.
FDD Produces More Value for Less Cost by Solving Common Problems

Essentially, the FDD Direct Drive nanoliter resolution pump solves problems other pumps can't. It does so more efficiently, more cost-effectively, and more reliably – conserving resources both directly and indirectly.